(Liverpool v Real Madrid, 29 May, 2pm) – Liverpool are creating a better game and have a bit of a crush on Real Madrid after the first minute of the final.
Update the following 60 second.
20′

shocking swimming pool

Mane's dribbling skills were excellent, and then a shot allowed Courtois to push the ball into Real Madrid's right post.Moments later, white eagle resolves heartbreaking situation





19′

not INOOOO

Arnold sends the ball into the sky after Salah finishes from the pass to the second line

17′

still have not

Mane received the ball on the left and handled it deftly before releasing it to Salah to finish with his right foot.However, goalkeeper Courtois remained focused and caught the ball





16′

not INOOOO

Trent A-Arnold passed the ball to Salah but the Egyptian striker's shot from a difficult position was pushed away by Courtois with his fingertips.





14′

not allowed

Robertson made a clever cross from the left, and the Real Madrid defender handled the clearance in time and returned the ball to Courtois.

ten'

Mane escaped quickly, received a pass from Arnold, then sent the ball inside for Salah to finish. Unfortunately, the Senegalese forward had been sending the ball across the border before.

6′

Benzema and Vinicius created a duo outside Liverpool's box but couldn't put Alisson's goal in jeopardy

3′

A direct corner kick, Arnold hoisted the ball into the Real Madrid penalty area, but the ball was cleared by Benzema.

first'

Game start

The Champions League final has begun.The first team to serve in the first half was Liverpool

The referee for this match is Mr Clement Turpin





Opening ceremony begins

After two postponements, the opening ceremony of the game was officially held





continue to postpone

According to BTC's latest announcement, the match is expected to be delayed by another 15 minutes.

accident

The game will be postponed for 15 minutes – according to BTC's announcement

team

real Madrid: Courtois, Carvajal, Militao, Alaba, Mendy, Casemiro, Kroos, Modric, Valverde, Vinicius, Benzema.

Liverpool: Alisson, Alexander-Arnold, Konat, Van Dijk, Robertson, Henderson, Fabinho, Thiago, Mane, Salah, Diaz.
Liverpool starting lineup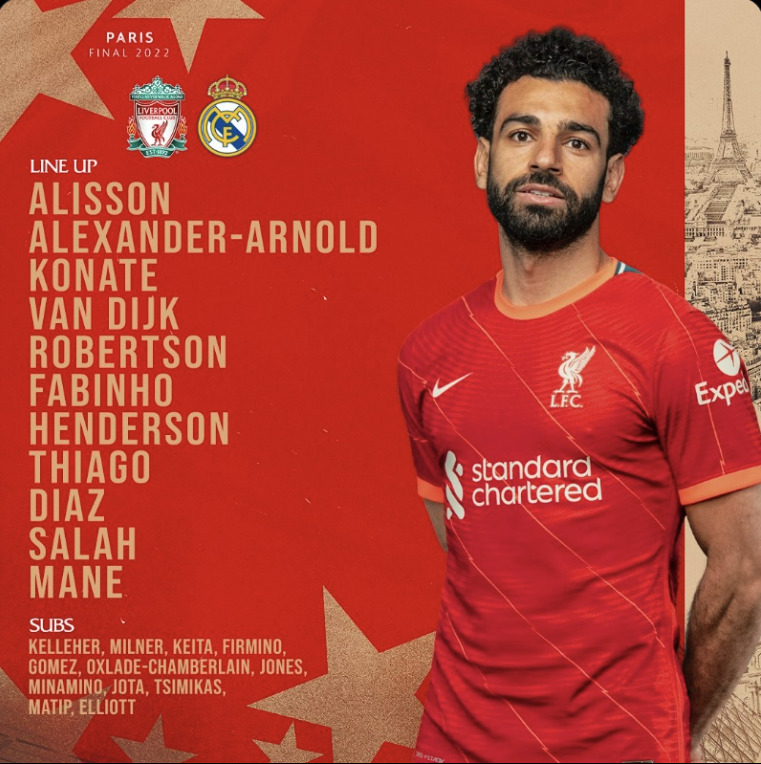 Real Madrid starting lineup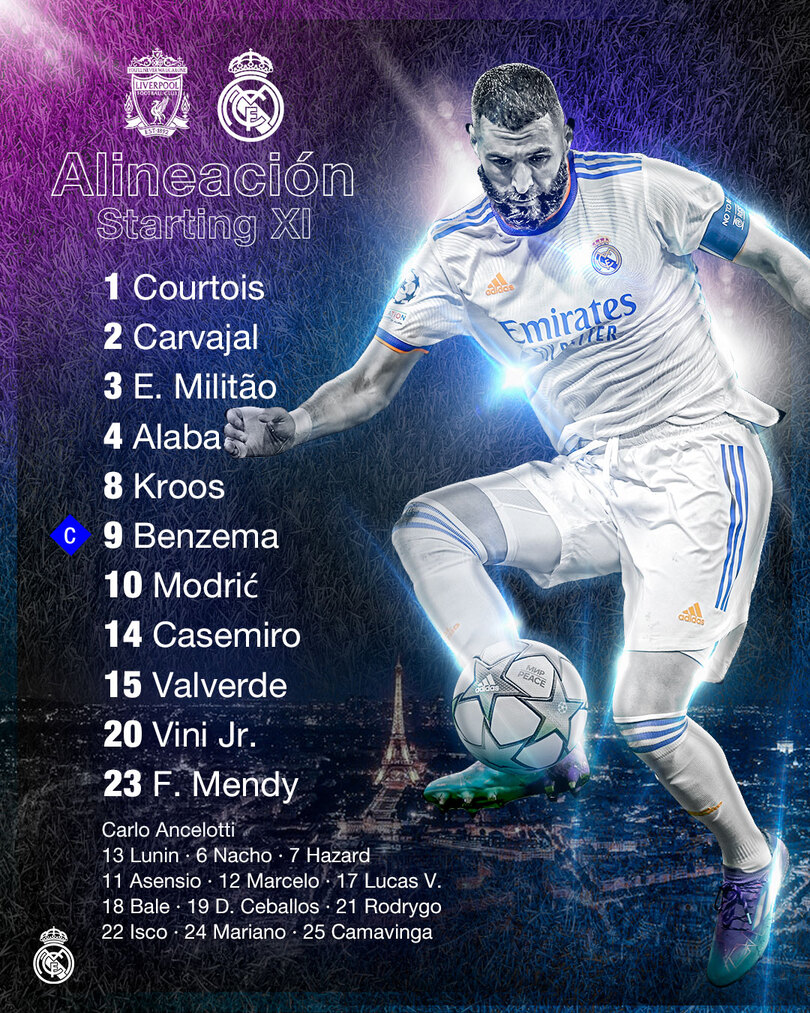 Coach Ancelotti popularizes tactics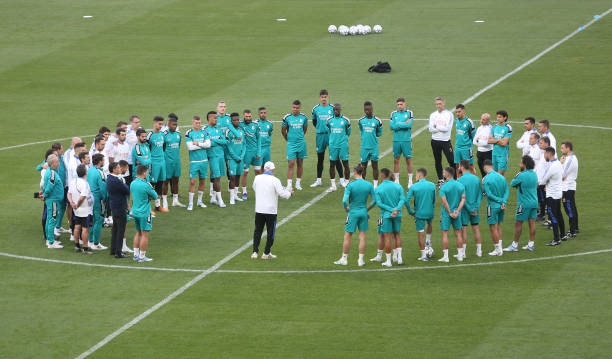 Steven Gerrard appears
Legendary ex-Liverpool midfielder Steven Gerrard showed up at the Stade de France to cheer on the Kop.Joining the current Aston Villa manager was former Manchester United defender Rio Ferdinand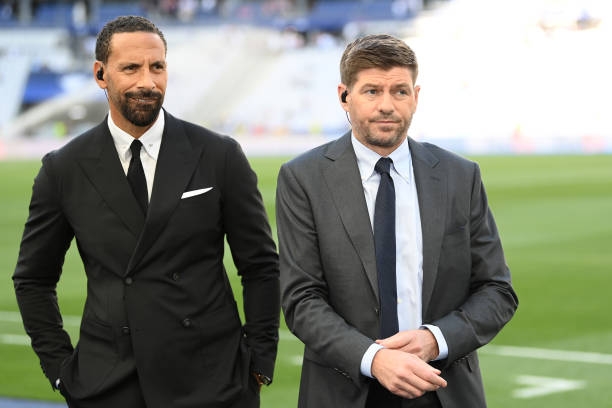 Liverpool players warming up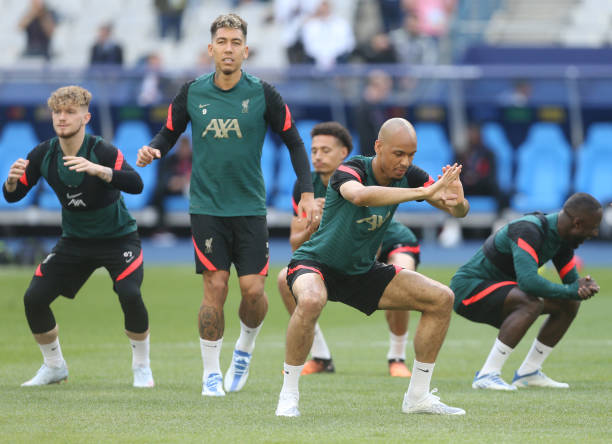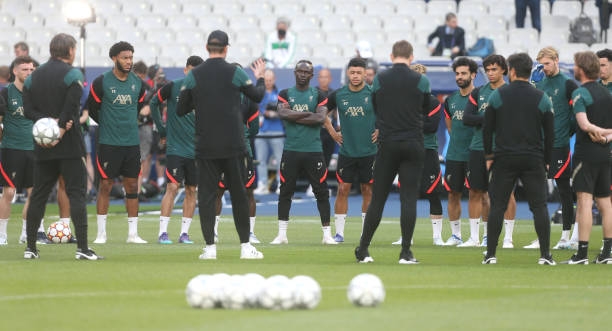 The atmosphere in front of the Stade de France before the game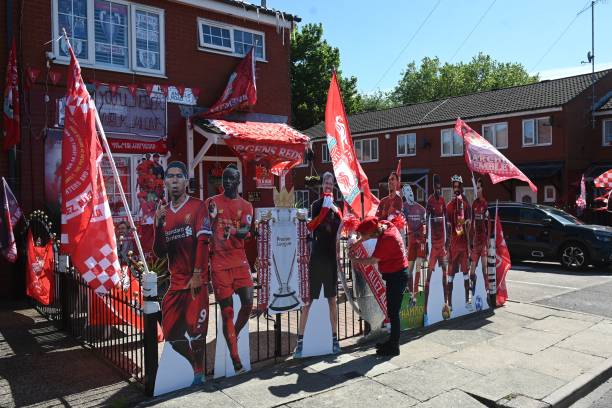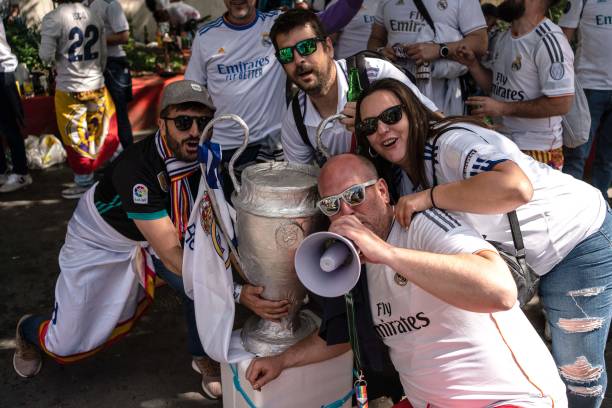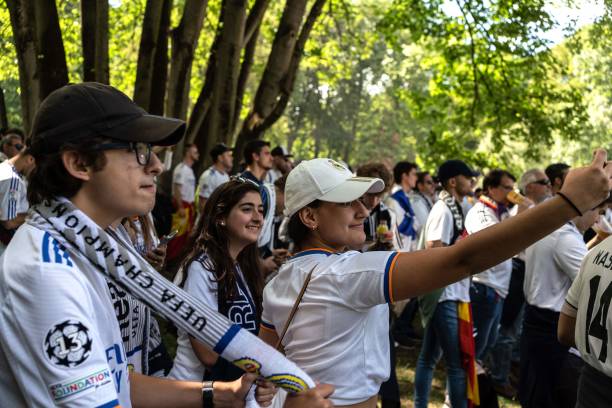 The image of the 2021/22 Champions League Cup has emerged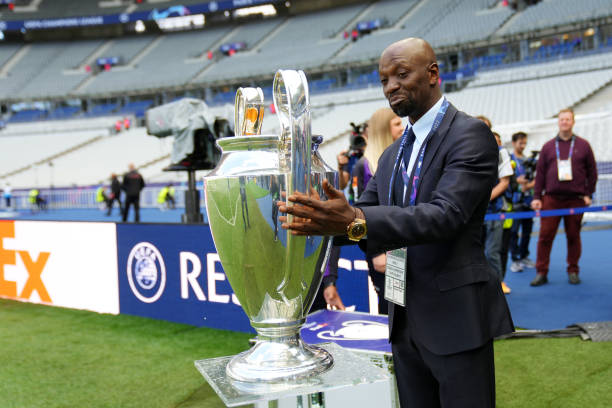 Thomas Muller picks Liverpool to win
In a recent interview, striker Thomas Muller made his predictions about the teams that will win the Champions League this year. Therefore, the German player boldly chose The Kop to be crowned. However, according to Muller, Real Madrid and Liverpool will draw 2-2 after 120 minutes before deciding on penalties.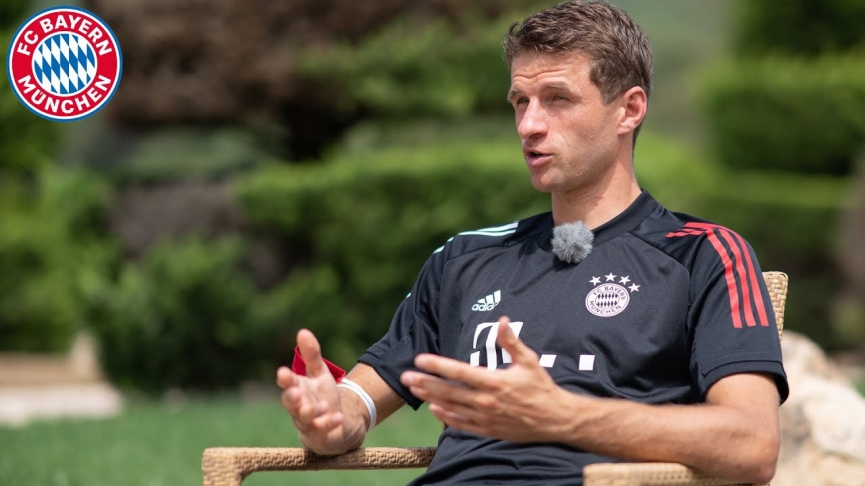 Coach Jurgen Klopp is ready to win Real Madrid
"Honestly, I don't know how it would feel if the team won. Maybe you should ask us after this game.
Real Madrid is indeed the most prestigious club in Europe. They have players who have won consecutive titles and coaches who have won trophies in different leagues.Obviously an experienced opponent"- Klopp highly praised his opponents in the following games.
"However, we're also here for the third time in five years, which means a lot. If we win, I don't give it a second thought because I'm patient enough to share it after the game." – concluded the 54-year-old strategist.
Two of Europe's most successful teams, Liverpool and Real Madrid, will play their third Champions League final tomorrow, May 29 (Hanoi time) at 2am at the Stade de France.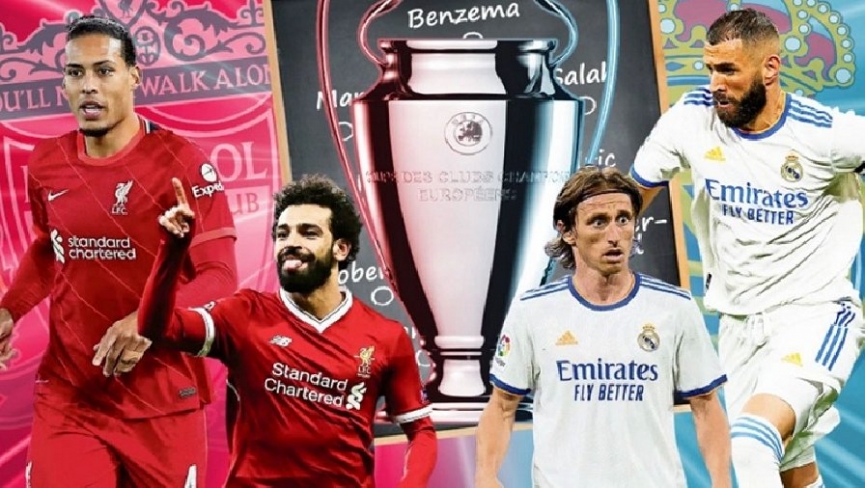 Carlo Ancelotti will become the first manager to win four Champions Leagues if Real Madrid beat Liverpool in Paris. His previous three titles were with Milan and Real Madrid in 2003, 2007 and 2014. Ancelotti also won the title twice as a player, in Milan in 1989 and 1990.
For Liverpool, they are disappointed with the four this season. But Klopp's side could still win three trophies this season, winning the FA Cup and the League Cup if they beat Real at the Stade de France.
Liverpool have also played in every possible competition this season and, despite Klopp's demanding and intense game, have shown no signs of fatigue.
When is Liverpool vs Real Madrid?
Time: 02:00 on May 29
Tournament: UEFA Champions League final
Location: Stade de France, Paris, France
Which channel to watch Liverpool vs Real Madrid live football match on?
The Champions League final between Real Madrid and Liverpool will be broadcast exclusively on FPT Radio.
In addition, we will report live the most interesting information from the competition. Readers are welcome.
>> Watch live link: https://fptplay.vn/xem-truyen-hinh/uefa-1
Liverpool and Real Madrid recent form
Real Madrid have only won the last 2/5 games and lost 1 of them to Atlético de Madrid
Liverpool are unbeaten in their last 5 games, including a draw
Real Madrid have beaten Liverpool in their last 4 games, only 1.
Important stats before the final
Liverpool have won the last 10/12 of the Champions League.
Real Madrid have scored more than 2 goals in 9 of their last 9 Champions League games.
Liverpool have scored at least 2 goals in the last 11/12 Champions League games.
Real Madrid have scored at least 2 goals in their last 8/10 Champions League games.
In the last 3 meetings between the two teams, the total number of goals is equal.
Liverpool have lost their last 5 games or 1/2 of the bet.
Real Madrid and Liverpool have scored in the first half in 3/5 of their last games.
Liverpool vs Real Madrid information
Liverpool: Origi was injured. Thiago's ability to play is still open.
real Madrid: All out.
Liverpool's expected squad for Real Madrid
Liverpool: Alisson, Robertson, Konat, Van Dijk, Trent, Fabinho, Henderson, Keita, Diaz, Mane, Salah.
real Madrid: Courtois, Mendy, Alaba, Militao, Carvajal, Casemiro, Kroos, Modric, Vinicius, Benzema, Rodrigo.
29 May 02:00 Liverpool v Real Madrid
Really shocked when asked to recruit Salah instead of Mbappe, is it ambition or competition?